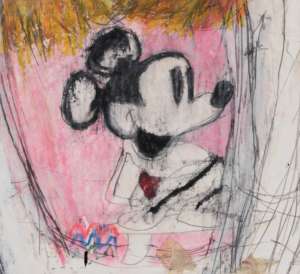 Anna Stella Zucconi was born in 1984.
She lives and works in Pietrasanta, Tuscany.
In 2008 she exhibited at "Immagina – Arte in Fiera" in Reggio Emilia, with the partnership of the stand of the Accademia di Belle Arti in Carrara, which involved her the following year at "IN + FIERI, Premio Nazionale delle Arti", at the Palazzo Ducale in Massa.
Since 2013 she has participated in several editions of CAM-ON /Circuito OFF, a path of Contemporary Art that aims to focus on the Artists, known and unknown, living in the surroundings of Camaiore, in Tuscany.
She is one of the finalists for the Graphic section of the Mondadori Art Prize (2009 edition) in Milan.
In 2016 she was a finalist for the Painting and Drawing section, for the eighth edition of the Premio Celeste, in London.
In 2017 she participated in the 5th edition of Setup Contemporary Art Fair, in Bologna, represented by the BonelliLab Art Gallery, Canneto S/O (MN).
In 2018 she exhibited the project "Into my Hollywood" at the showroom VETRINA – Vehicle Projects, inside the BPM Bank in Piazza Duomo – Pietrasanta.
In may 2018 she won the Open Call of Magazzeno Art Gallery (RA).
On 12 July she inaugurated his solo exhibition "ROLLER COASTER" at the MAGAZZENO Art Gallery, (RA) Italy.
From 16 December (2018) to 10 January (2019), she exhibited at the third edition of "Art adoption New Generation" in Cortona, Arezzo.
In September 2019, participating in the open call of  Popack, she's selected among the artists who for the next three years will have the opportunity to develop cultural projects designed specifically for dissemination through consumer goods.